Custom Guitar Builder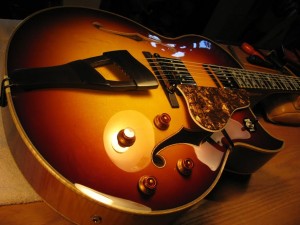 If you are looking for a custom guitar builder who will make you the guitar you have always dreamed about, you've come to the right place. Fine Archtops specializes in connecting musicians like you with a professional guitar maker and luthier who will build you the custom guitar you've always wanted.
You can fully customize every aspect of your new guitar: from the body to the frets and pick guard and everything in between. As a matter of fact, the more specific you are with your custom guitar builder about what you want, the better. You will end up with the perfect guitar that will be uniquely you.
A custom guitar builder will closely work with you to ensure you get the archtop you want. Archtop guitars are beautiful and versatile instruments, and they sound great in many different genres of music: from classical to country to jazz to rock.
Contact us today or browse through our list of luthiers to find the perfect custom guitar builder for you. If the luthier you select cannot work with you for one reason or another (usually due to a high volume of work or scheduling difficulties), they will recommend another custom guitar builder you can contact. Either way, the end result will be a beautiful new guitar that will bring you years and years of musical enjoyment.
Professional Custom Guitar Builder
At Fine Archtops, our main focus is to connect you with the custom guitar builder who will listen to your wants and needs and build you a guitar that perfectly suits those wants and needs. You probably already have a strong vision in your head of what you want your new guitar to look like.
A custom guitar builder will help you get the guitar you want when you want it. Whether you want a classic looking guitar or one that is a bit more unique and trendy, your custom guitar builder will make sure your new guitar reflects your personal tastes and style.
Browse our site to see our list of professional luthiers. You can also contact us if you have any questions about your custom guitar builder or what it takes to start the customization process.
Custom Guitar Builder and More
Do you want more information on getting in touch with a custom guitar builder? Call us at Fine Archtops at 612-366-7120, or you can Contact Us.