About Fine Archtops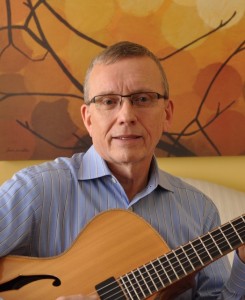 Hello. My name is Steve Wagner. For more than 35 years as both a player and collector of archtop guitars I have owned or played hundreds of these magnificent instruments. To me the hand-carved archtop guitar is a work of fine art. I long felt the need for a venue unlike any other where these artisans and their guitars could be showcased and made easily accessible to archtop buyers and enthusiasts.
At one time there were few independent custom archtop luthiers such as the legendary John D'Angelico and Elmer Stromberg. Following the death of John D'Angelico his apprentice James D'Aquisto carried on. Soon grandmaster luthiers Tom Ribbecke, Bob Benedetto, John Monteleone, Steve Grimes and Steve Andersen emerged and the "Golden Age of Lutherie" had begun.
Others would soon follow including master luthiers Jim Triggs, Bill Comins, Bill Collings, Mark Campellone, Gary Zimnicki, Cris Mirabella, Stefan Hahl, Claudio & Claudia Pagelli, and the list keeps growing. Here you will also find many contemporary, young, well-trained yet experienced luthiers who bring a fresh perspective and are truly the future of this craft. You will also find luthiers from different parts of the globe including Great Britain, Europe and Australia.
When we began this website four years go, unless you knew a luthier's name prior to beginning your quest you could search at length through page after page on any Internet search engine only to end up with a dozen names. We have completely changed that. You will find us on page one of any major Internet search engine by using virtually any keyword or phrase relating to a custom archtop guitar.
Early on we extended our focus to include companies who provide accessories and services to enhance the total guitar experience. We then added dealers who have a great deal of knowledge and experience in the guitar market. Most recent has been the addition of a For Sale page where luthiers, dealers and others can sell their new and or used and vintage instruments. We are excited to offer this service so that more people can own these musical treasures.
I am passionately devoted to the success of this endeavor. I am also committed to presenting to you the very best. I will strive to ensure your experience is rewarding and informative. I invite you to return often as our list of services continues to evolve.