Archtop Electric Guitar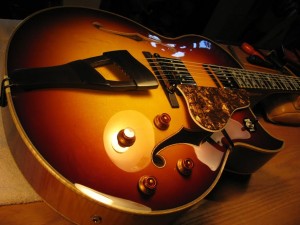 Are you in the market for the perfect archtop electric guitar? Maybe you already have your dream guitar pictured in your head and you just need help turning that dream into a reality. Or maybe you are pretty sure you know what you want, but you just need some help finalizing the details.
No matter what you have in mind, Fine Archtops can connect you to the professional guitar maker who can help you get the archtop electric guitar you've always wanted.
Archtop electric guitars are an incredibly versatile instrument. They are used in several different genres, and they are known for their beautiful, clear and true sound. Musicians of all types love archtop electric guitars for this reason. You are not limited to just one type of music when you get one of these guitars. You can play everything from jazz to rock to country and more!
Contact us or browse our site to see the professional luthiers on our list that will make the custom archtop guitar you've always wanted. Soon, you will be making beautiful music and impressing audiences of all sizes.
Custom Archtop Electric Guitar
The professional luthiers on our list of guitar makers will all do everything they can to ensure you get the custom guitar you want. And if for some reason the luthier you contact cannot work on your specific guitar, he or she will recommend another one that can. After all, guitar making is an art form, and everyone in the luthier community wants to help further their craft.
Either way, you will end up with a custom archtop electric guitar that will be exactly what you've always wanted! You can fully customized every aspect of your new guitar – from the type of wood used for the body to the frets, the pick guard, colors and everything in between.
Contact us today to learn more or browse through our list of archtop luthiers to learn more about each one and all they can do for you. You will be happy with the end result, and you will have plenty of good times playing your new archtop electric guitar and showing it off to your friends and fellow musicians!
Get an Archtop Electric Guitar
Are you interested in learning more about getting a new and customized archtop electric guitar? Call us at Fine Archtops at 612-366-7120, or you can feel free to Contact Us.